This is the comedy home page of NYC comedian Drew Whitney Morgan. I live in Queens with my wife and dog, Mick Jagger Pup. I am southern. I like bourbon. In my free time I like to play LoL. I do stand-up and revolutionize culture. My very not up to date or consistent personal blog is hilarious. Check it out. I also write a blog called OurSundyBest with two Tennessee idiots: Trae Crowder and Corey Forrester.
Stand-up show announcements can be found on my facebook here. Other stuff can be found by clicking on the menu. I pretty much modeled my page after something called a "website." 
Drew Morgan is a stand up comic, writer, and actor based in New York City. He can be seen on any given night in comedy clubs and bars making the funny, often performing at New York Comedy Club, Broadway Comedy Club, Comic Strip Live, and the Creek and the Cave.
Hailing from rural East Tennessee, Drew is able to draw on his experiences as a small town boy who has lived in Africa, Australia, Miami, Boston, and (currently) New York City. Weaving his stories together with observations on culture, religion, and identity, he's like Mark Twain on acid, or just a confused southerner experiencing this thing we call existence. Drew Morgan presents his hilarious perspective without blame for anyone, except everyone.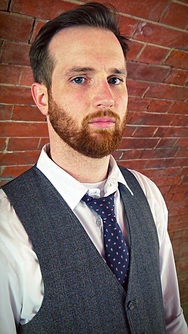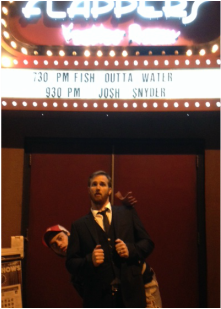 Described as having the "alpha certainty of a football coach, (and) the fulminating zeal of a charismatic preacher," his style is decidedly southern, extremely smart, and charmingly sarcastic. Drew has been featured as part of the Laugh Your Asheville Off Comedy Festival, Cape Fear Comedy Festival, Hoboken Comedy Festival, Scruffy City Comedy Festival, and The Laughing Devil Comedy Festival where he was a semi-finalist. He is a good dancer. 
DREW MORGAN IS THE KNOX COMEDY LIVE COMEDIAN OF THE MONTH!
Drew Whitney Morgan has been doing comedy in our scene for the better part of a year and has been wowing audiences with his preacher like fervor whenever he hits the stage. Drew is passionate about what he jokes about and is able to get a laugh out of all types of audiences.
He is regularly hosting Side Splitters 'Comic's Night Out' and can be seen at many of the open mics around town as well as performing with the Black Liver Society on Black Friday at The Well.
And slowly, as his routine builds in a succession of mounting waves, he takes his slacker audience in hand and wrings them for all they're worth, pulling the crescendo into a routine about reading the book of Revelation while stoned; about how after the sounding of the sixth trumpet, an angel of God descends from the heavens, plants one foot on land and one in the ocean and reads from a great scroll in a voice of doom and thunder.
Striding, mic in hand, across a floor stained by years of mentholated soot and cheap lager, Drew Morganis an anomaly in Knoxville: a stand-up comic performing at the Pilot Light, an indie-rock club. And the differences between him and the club regulars are manifold and obvious, from his barbershop haircut and slow-drip East Tennessee drawl, to the dirty boot-cut jeans which seem to have actually faded onto his legs.

But if he's out of place, he doesn't know it, because he fairly commands the crowded little bar with the alpha certainty of a football coach, the fulminating zeal of a charismatic preacher.
'That last joke was ironic, by way,' he says to the crowd of indie kids. 'Kind of like most of your clothes.